Permits | Independent Contractors Available/Duties |
HSE Policy
|
Privacy Policy
---
Permit Acquisition

Jack Tate, President and CEO of Diversified Land Management, Inc. (DLM) has 50 plus years overall experience in the oil and gas industry. DLM was formed 18 years ago as a full service permit acquisition company with offices in Edna, Texas and Mendenhall, Mississippi. DLM has extensive experience completing unique seismic permit projects. In the last fourteen years, DLM has completed a host of jobs with challenging permit issues. Our references will attest to our achievements and to our clients' approval.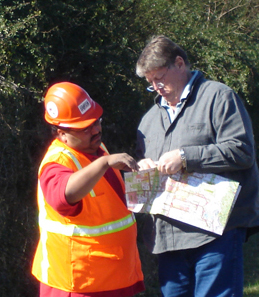 We have the expertise to manage all issues relating to seismic permitting including the permitting of all regulatory agencies, state, federal, and sensitive wetland areas. DLM takes pride in the ability to interface with land departments or with agents who have ongoing lease efforts. We can negotiate surface permits, damages, and function as a liaison to the field crews. Furthermore, DLM is accustomed to working within the boundaries of confidentiality agreements.

We maintain an onsite field office for the duration of each project and provide permit coordinators, permit agents, severed mineral agents, damage assessment agents, research and lease check agents, oyster permitting agents, mapping and database agents, all depending on the clients' requirements. We complement the staffing with check writing for landowner permits and payoff accounting through the 1099's at years end. All of the leasehold and production permitting is completed by qualified mineral agents in the Mendenhall office. The mineral agents perform the DOC and TRRC workups. Upon completion of each project, the mineral department prepares a booklet including the data turnover sheet, scanned copies of all permits, and plats with halos. Included in this booklet is a CD containing the shape files (SHP) of the project map for the client's use. All regulatory agency permits are secured by the permanent office staff.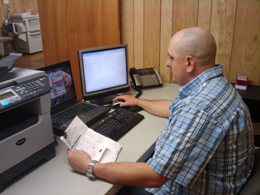 We are fully computerized and have servers which contain our mapping and database files with data backed up at offsite locations. A Log In and password is provided for each client's individual project. This capability offers the client immediate access to their proprietary information without cluttering email accounts.

DLM would appreciate the opportunity to submit bid proposals for any of your 2D or 3D seismic permit projects. We can deliver a cost efficient, timely seismic program which will be suited to your needs. Our independent contractors have extensive experience in every aspect of permit acquisition and have the training to complete all assigned tasks in a timely and professional manner. DLM is a nationwide seismic permitting company with a reputation for hard work and efficiency. We look forward to meeting with you to discuss any ensuing program.
---
Independent Contractor Positions
Project Manager
The Project Manager is responsible for the performance of all agents of the project and insures that all deadlines are met and any problems that arise are dealt with in an expedient manner. In addition they are responsible for weekly progress reports and all day to day activity in the office. He/she must also attain all permits (city, county, etc.) that are required to conduct seismic operations in a specific geographic area and make most decisions regarding surface permit conditions. This individual will relay information to DLM management to supply to the client and perform any other tasks as needed by the client.
Mapping Technician
A mapping technician is the key to keep all involved parties current with the day to day progression of the project maps. The information applied to our map includes minerals, title, production, land preparation, and tract status. Clients are provided with updated maps on a weekly basis via the DLM website portal. Presentation is an integral step towards the success of our projects coupled with strict accuracy of our project maps.
Surface Permit Agent
Surface permit agents are the direct link from the client to the landowner. It is their responsibility to communicate the basic operations of a seismic survey to the landowner and resolve any specific concerns or conditions that the owner and/or tenant might have in regard to their property. These conditions pertain to roads, gates, water wells, irrigation wells, crops, homes and any other structures on the property. The range of people we permit is quite diverse requiring permit agents who are congenial, attentive, and have the ability to adapt to people with different temperaments and personalities. It is imperative to have well educated and experienced agents that understand the clients' and landowners concerns. DLM hires independent contractors as permit agents that not only acquire permits, but do this in a timely and professional manner.
Mineral Permit (leasehold/production)
A mineral permit/lease allows the lessee the right to record and process seismic data acquired from conducting a seismic survey. A mineral permit must be obtained from any entity that has an oil and gas mineral lease or that has unitized oil and/or gas production within the seismic prospect. In some cases, a severed mineral permit is required in order to record and process the data. Severed minerals are minerals that are owned by one or more entities who own the minerals, but not the surface. Severed mineral ownership is determined during title research or from information obtained from the surface owner. These permits are handled by contractors in the on-site project offices. Independent contractors in our Mendenhall, MS office research and determine any acreage that is held by production or held by any oil and gas leases. In addition, any state and federal permits that are required and all fee lands where the surface and minerals are owned by a production company are handled out of this office.
Title Research
Title research is a necessary procedure to the seismic permit acquisition process. This work confirms the ownership rights of either the surface estate or mineral estate. To obtain an accurate picture of actual surface and mineral ownership, an in depth research effort is required. With a cursory look, many courthouse records present a false picture of ownership; therefore, the title research is required to enable a precise understanding of the ownership. Title research is performed using three methods; index and conveyance records in the courthouse clerk's office, local abstract offices, and conveyance records accessed via industry related websites. If a county or parish has their records online, their website is the most expedient and economical method. In isolated cases you will need to visit the other sources mentioned to get a positive confirmation. Preparing an accurate right of ownership for either surface or mineral estates can be time consuming, but it is an extremely important facet of the process.
Crew Support/Damage Mitigation
This job requires a great amount of organizational skills, seismic field experience, patience and time. These individuals will be available to answer questions for all the geophysical contractors as operations begin and will assist in all operational activities. It is important that the crew support agents have working knowledge of the project and the landowners within the prospect. It is the responsibility of these individuals to make sure the permits are executed by the geophysical contractors in accordance of the conditions outlined on the seismic permits. These same people will negotiate any damage claims that arise in during seismic operations on the project.
DIVERSIFIED LAND MANAGEMENT, INC.

---
Diversified Land Management, Inc. is a member of the International Association of Geophysical Contractors (IAGC) and we subscribe to the policies established by the global geophysical industry. We work alongside geophysical contractors in all of our seismic permitting projects. Accordingly, all DLM independent contractors are required to read the policy manual, and familiarize themselves with its content before they work on a DLM contracted job. The full policy manual can be viewed here on the IAGC website.
In addition to our adherence to the IAGC manual – DLM writes specific HSE plans for permitting and crew support operations for each seismic project that it undertakes. Our Project Managers actively insure that the contractors on our jobs are implementing the policies outlined by DLM management. These project specific HSE plans can be found and viewed within the company safety manual that is openly displayed at every permit acquisition office. DLM prides itself as a strong advocate for work site safety and a leader amongst HSE minded permit Acquisition Company's in the continental United States.
DLM, Inc. is committed to maintaining the security and privacy of our clients and the individuals we do business with in the exploration industry. We understand that in today's world you can never be too safe. If you would like to view a copy of our company's privacy policy please contact us a info@dlminconline.com.