DLM Mission Statement
|
Leadership Team
|
Management Team
---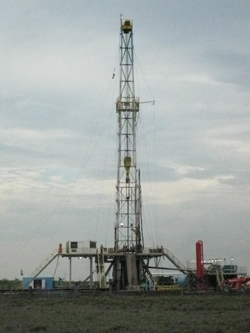 The DLM Promise: Diversified Land Management, Inc., (DLM), is a nationwide seismic services company committed to working diligently and in a professional manner with all landowners, mineral owners, lessees and foremost our clients while providing exceptional cost effective results. DLM's mission is to serve the needs of the oil and gas exploration industry, providing proficient stewardship for each and every client. DLM always places safety, honesty and fairness first in all aspects of business. This is accomplished by the use of state of the art technology and a DLM team that has extensive experience in every facet of the seismic permitting process. DLM develops lasting relationships with clients by continually exceeding their expectations. DLM's clients trust DLM to produce quality projects which meet schedule and budget goals through exceptional performance by every member of the DLM team. DLM is dedicated to advancing the status it enjoys as a recognized leader in the industry by maintaining the highest level of professionalism and integrity and placing the clients' needs above its own. DLM is a company committed to excellence.
---
Leadership Team
JACK TATE - CEO

Jack Tate is the CEO for DLM and has been since its inception in 1998. Mr. Tate's geophysical services career began in 1962 working for Delta Exploration Company (Seiscom Delta) in Jackson, Mississippi. Jack began at the ground level as a jug hustler and quickly worked his way up the chain to cable man, observer and surveyor.
In 1973 Petty-Ray Geophysical hired him as a Surveyor for their Rocky Mountain District. Eventually he transferred to the Southern District, with an emphasis on South Louisiana and East Texas projects holding positions from permit agent, crew manager to permit supervisor until his departure in 1994. At this point Eagle Geophysical recruited Mr. Tate to develop and supervise their permit department. This newly created position entailed structuring and managing permit acquisition for multiple projects.
Then in 1998, Jack formed Diversified Land Management, Inc. Mr. Tate put his expertise in the geophysical services industry on display by forming a nationwide, full service seismic permit acquisition company. He has had 18 successful years at the helm of DLM and an extensive project list that includes many satisfied return clients. He oversees five to ten projects a year, manages a permanent staff at three locations and in addition monitors the work of sixty plus independent contractors. He travels each week to project offices throughout the United States in order to maintain the commitment made to DLM clients that the work promised is provided with complete professionalism. He achieves his success through his tenacious work ethic and a dedicated, industry educated staff. Jack believes that no project is too complex or unique for the family-run business known as DLM.
Mr. Tate and his wife Jean have one grown son, Dwayne Tate and live in their hometown of Mendenhall, Mississippi.
GEORGE TATE - Operations Manager/Marketing Representative
George Tate has over 40 years in the geophysical industry beginning in 1971 as a survey helper on a Delta Exploration Company (Seiscom Delta) crew in Mississippi. He then went to work with Geophysical Field Surveys (GFS) as a compass man and flagman and eventually held the position of crew chief. Late in 1973 Mr. Tate went to work with Petty-Ray Geophysical in their Rocky Mountain District and remained with Petty-Ray through 1982 in several capacities including field supervisor and assistant party manager.
In 1983 he went to work with Geo-Seismic Services and was assigned to the southeastern coastal states of Alabama, Mississippi, Louisiana and Texas as a party manager. He supervised and managed the daily activities of the company permit agents, survey crews, drill crews and recording crew which consisted of just under 100 independent contractors. In 1988 he took a position as assistant party manager with Halliburton Geophysical Services based out of their New Iberia, Louisiana office where he worked his way up to permit supervisor.
In 1994 George was hired by Eagle Geophysical as a party manager and was responsible for managing a crew of over 75 independent contractors and supervised contract survey crews, drill crews and the recording crew in a manner that produced positive results to the satisfaction of the company as well as their clients. Mr. Tate stayed with Eagle for 8 years and then signed on with Fairfield Industries as a party manager on one of their offshore deep water seismic vessels. His duties included managing and coordinating data collection on the first Z3000 deep water node system in the Gulf of Mexico and also shot 3-D OBC with the box system using two source vessels.
In 2010 George joined his brother Jack at Diversified Land Management, Inc. serving as Operations Manager. George has brought his vast seismic background and experience to DLM which brings added value to any company that hires DLM for permitting services. In addition to his operations responsibilities George works as a Marketing Representative for DLM for the Northeast and Southeast United States. George is based out of the DLM, Mendenhall, Mississippi office.
GLYN KING - Mineral Supervisor

Glyn King has worked for DLM since it's inception and has held a range of positions with the company since that time. He now has the title of Mineral Supervisor, which charges him with the responsibility of working as direct liaison to DLM clients regarding all mineral permitting issues.
Mr. King began his geophysical career as a permit agent and title agent for Halliburton Geophysical Company and then worked for Seismic Exchange, Inc. and Eagle Geophysical Inc. before joining the DLM team in 2000. He graduated from Pearl River Community College, in Poplar, Mississippi with an Associate Degree in Electronics.
Glyn and his wife Maria live in Sandy Hook, Mississippi. King is based out of the DLM, Mendenhall, Mississippi office.
SHANE SKLAR - Business Development/Personnel Manager

Shane Sklar serves as the Business Development/Personnel Manager for DLM. He has been in this capacity with the company since 2009, prior to that time Mr. Sklar held positions of Permit Agent and Project Mamager within DLM. Shane is responsible for marketing DLM in Northwest and Southwest United States.
From July 2001 to July 2005, Sklar served as the Executive Director of the Independent Cattlemen's Association of Texas (ICA). Before joining ICA, Sklar was a key staff member for United States Congressman Chet Edwards. He is also co-owner of Sklar & Son Cattle.
Mr. Sklar graduated with a BS in Agricultural Business and a minor in Political Science from Sam Houston State University. He and his wife Jill reside in Edna, Texas with their daughters Margaret and Vivian and son John Rhett. Sklar is based out of the DLM, Edna, Texas office.

TONY POWELL - HSE Manager
Tony Powell serves as DLM'S HSE Manager. He began his work in the seismic industry as a Permit Agent and then later a Project Manager. During that time he also served as an HSE Liaison for several of his employers. Mr. Powell holds numerous HSE certificates and memberships.
In 1979 he joined the United States Navy as a Machinist's Mate. After leaving the Navy, Mr. Powell began a new career in the oil and gas Industry. He is an active member of the AAPL.
In 2011 he obtained his MSHA certificate. And in 2013, after beginning his work with DLM, he attained approval for DLM in the ISNetworld, which means our HSE standards meet or exceed our client's needs. Mr. Powell take's great pride in helping DLM employees and contractors stay safe and aware of their environment. Additionally, DLM has developed and implemented safety policies and procedures in compliance with local, state and federal (OSHA), EPA, DOT, FRA, USCG, along with company rules and regulations as well as using the ISO 9001:2008 and ISO 14001:2004 certifications, which Mr. Powell oversees.
Tony Lives in Newport, Kentucky and is based out of the DLM Office in Newport, Kentucky.

Management Team
JACK TATE - PRESIDENT


JEAN TATE - VICE PRESIDENT


DWAYNE TATE - SECRETARY/TREASURER